Over the holidays Kristine, Caroline, and myself went to Virginia to visit with our parents. There is something about going to your parents house, it feels so comfortable and nice. This was the first time any of us had seen where our parents are living since they moved a couple months ago. So, it seems odd that a place I'd never been felt like home. That's the magic of a Mom. Or maybe it's just our Mom, because she's pretty special! Regardless, it felt like home. My mother walks the line of meticulously organized and comfortable like a pro. She's just the most cool Grandma there is, with a house that matches. 
She's going to be embarrassed (don't worry too much Mom, you're probably the only one reading this anyway) but we thought it'd be fun to share a few of our Mom's favorite things while they are fresh on our brain.
Kimberly
How can I talk about my Mom without mentioning throws? She had SO MANY perfectly folded and strategically placed throws around the house. When we shop with her she gravitates to great blankets, especially if they are 100% cotton which is harder to find. She even gave us all a super cute Pottery Barn throw for Christmas.
One cool thing she did that I'm totally stealing is that she had two red snowflake style throws out just for the holiday. It felt super polished and they got used so it was really practical decoration. 
I also feel like I should get some kind of daughter bonus points because a throw I gave her years ago for Christmas was still there in her carefully curated mix! (Closest current version)
Kristine
If our mom's house matches her cool style, her clothes and accessories also follow suit. One of the things she doesn't leave the house without is an over-sized tote bag. She picked up this one this summer when we were all in Seattle and has her eye on this leather one. I received a bag for my birthday from my mom over three years ago and though it is worn out I can't seem to find anything to replace it.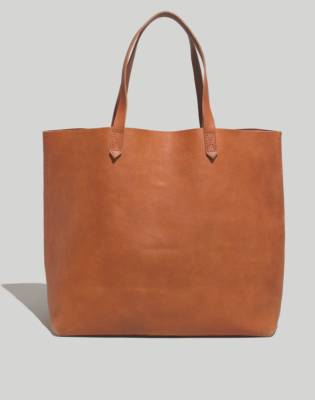 Our mom is famous for her cookies. I shared about Fudge Puddles on this Holiday Post. There is nothing she loves like a great cookie and this is one of her classics. They do require a mini- muffin tin, but lucky for you that is one of her signature gifts.
Fudge Puddles

1/2 c butter, softened

1/2 c peanut butter

1/2 c sugar

1/2 c brown sugar

1 egg

1/2 tsp vanilla

1 1/4 c flour

3/4 tsp baking soda

1/2 tsp salt

Filling: 

1 c milk or semi-sweet chocolate chips 

1 c sweetened condensed milk

1 tsp vanilla

Combine cookie ingredients. Chill dough one hour. Shape into 48 balls, 1-inch in diameter. Place in greased mini muffin pan. Bake at 325F for 15 minutes. Remove from oven and immediately make a well in the center of each cookie with a melon baller. Cool in pan 5 minutes. 

Remove to wire rack. Melt filling ingredients together in microwave at 50% power. Fill each cookie center with fudge mixture. Allow to set before serving.
Caroline
Our mom isn't one for extravagant or bold art, but I absolutely love the way she displays photos! They always look expensive and classy. 
She will buy a large frame on sale and get a custom mat cut to fit the photo she's displaying. Lots of her art is framed with a double mat, which looks SO nice. She claims getting a custom mat is very affordable. I've yet to try it out, but have lots of art waiting to be displayed with this custom mat hack. The photo on the right is a print Kristine took in Charleston and Kimberly used a cool watercolor app on. You can read more about that here. All of my mom's high end looking art combined with some homemade favorites from our childhood and high school makes you feel right at home as you walk in.